Worn out - Composites in toothwear - Face-to-Face lecture by Dr Zo Ali, Specialist in Prosthodontics
Zo will be presenting the latest clinical advice and tips for this ultra conservative technique for restoring worn teeth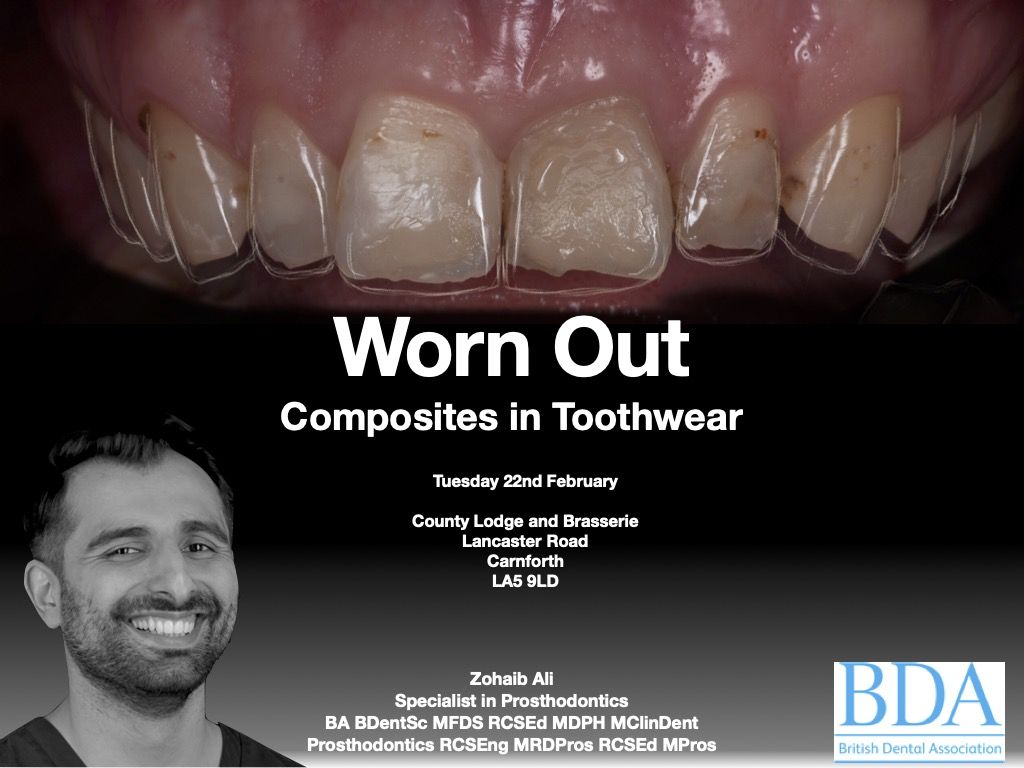 FREE - LANCASTER AND MORECAMBE SECTION BDA - WORN OUT: COMPOSITES IN TOOTHWEAR - FACE-TO-FACE
Title
Worn out - Composites in toothwear - Face-to-Face lecture by Dr Zo Ali, Specialist in Prosthodontics
Date
Tuesday 22 February 2022
Time
18:30 - Registration and refreshments
19:00 - Start of Lecture
Aim
To provide an update on current philosophies in erosive toothwear and the use of composite resin to manage this condition
Learning objectives
Understand the factors affecting erosive toothwear
Be able to identify causative factors and implement a preventative strategy
Communicate the long term sequelae of untreated erosive toothwear
Identify when restorative treatment is indicated.
Learning content
Delegates will receive a summary on the causes of erosive toothwear and an update on the management of this condition. The factors which influence the onset and progression of toothwear will be considered. Finally a discussion on how and when composite resin can be employed to aid treatment and various techniques available to clinicians wishing to learn more about the uses of composite resin.
If you would like to come to this free vCPD meeting please click this link.
PS - This is BDA meeting is in place of the Garstang Dental Referral Practice Virtual Study Club. If you would like to join us for the next study club on Tuesday 29th March 2022 at 7.30pm please follow this link.